Image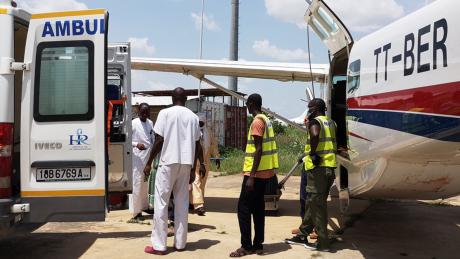 Photo: Katie Machell
Pilot Becki Dillingham faces the challenge of heavy rain on a flight to collect a wedding guest for medical evacuation
Serious Injury
What should have been a joyful day of wedding celebrations turned to sorrow when a number of the guests were involved in a road traffic accident on their way home to the town of Sarh, in southern Chad. One woman died and another, 19-year old Fatima, suffered a fractured pelvis and needed surgery in the capital, N'Djamena. With the help of a friend who works at the airport, the family contacted MAF.
Changeable Weather
In response to the call, Pilot Becki Dillingham loaded a stretcher into the Cessna 208 and headed off into the clear skies above N'Djamena for the 1 hour 50 minute flight to Sarh. Evidence of the rainy season was everywhere to be seen in the abundance of green.
Watching the weather radar, Becki could see storms close to Sarh, and rain over the airport. These prevented the most direct approach to Sarh from the north-west, adding an extra ten minutes to the flight as Becki first headed east to dodge some of the worst weather. Preparing to land, she found it was hard to distinguish the runway clearly through the cloud and precipitation. From a safe altitude, she opted to turn the plane around and make her approach again. On the second attempt she touched down safely.
As Becki taxied to the parking area, she could see family and friends of Fatima anxiously waiting with her. Laid on a wooden pallet in the back of a pick-up truck, she was clearly in a lot of pain. However, as it was still raining heavily taking off would have been difficult. It was agreed to wait a little longer before putting Fatima on the plane. 
Straight to Hospital 
After about 20 minutes the rain cleared, the truck was backed up to the plane, and with the help of many volunteers, Fatima was carefully transferred inside, followed by her parents. After an uneventful flight back without encountering any further bad weather, they were met in N'Djamena by an ambulance which transported Fatima immediately to hospital. 
Without the plane, the transfer to N'Djamena would have taken 10 to 12 hours by road, and would have been impossible with the injuries Fatima sustained. 
Fatima's father has shared that 'she underwent successful surgery; she is stable and getting better and better.' He added that all the family thank the MAF team for the way we helped them. 'It is gesture of Christians that we will never forget.'
Image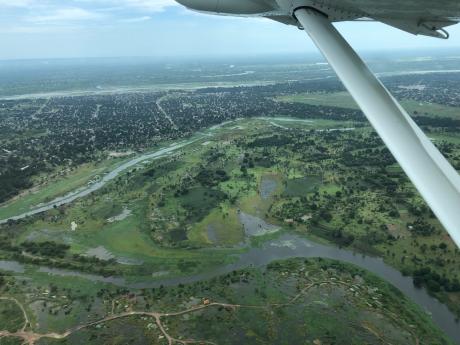 Photo: Katie Machell
The greeness of Chad in the rainy season.