Image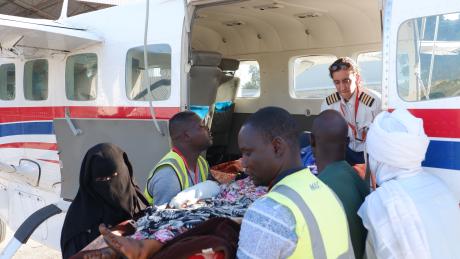 Hans Ngala
A MAF flight in Chad had to be diverted to respond to a medevac call for a woman who had been stabbed
Two representatives from non-government organisation ACRA plus three Swiss team members who work alongside the Chadian Apostolic Church, boarded a flight on 20 January from N'djamena to Sarh.
Just one hour into the flight to Sarh, pilot Becki Dillingham got a request for a medevac through the plane's messaging system. A 36-year-old woman had been stabbed in the chest. This meant that after landing in Sarh, they had to do a diversion – another hour's flight away.
Once Becki received the message, she had to calculate the fuel for diversion and the hours required to see if she could still do that extra, unplanned flight or if she would need to do a separate flight altogether.
"I'm sorry that instead of being in N'djamena in one hour, 30 minutes, we will be delayed," Becki tells the passengers.
The passengers understand and the Cessna Caravan takes off shortly from Sarh, bound for the remote village. The flight from Sarh takes an hour and when Becki lands, Scott Downing, an American who lives in the village with his family, is at the airstrip with his son and a Canadian. They first fuel the plane and then help coordinate the placing of the medevac patient on the plane
Alongside the patient's stab wounds, she also had multiple other injuries including a broken arm, facial injuries, and upper body bruises. Given her condition, any form of ground transportation would have meant that she would be in excruciating pain from the bumpy ride and may not even make it to hospital on time.
The MAF flight was her fastest and most comfortable option to the hospital in N'djamena. Becki, Scott and some men from the village use a stretcher making sure that the woman is well strapped in. The woman was laid on the stretcher atop a thin mattress – the best that can be done under the circumstances.
"We would normally fit a more comfortable stretcher into the aircraft but as this was diverted en-route rather than planned, we had to use the emergency stretcher we always carry in the pod," pilot Becki explains.
Everything is in order. Becki climbs into the cockpit and does a few more checks before evacuating the patient and the three tired passengers from Sarh back to N'djamena.
Another hectic day and week comes to an end and another life, that may otherwise have ended tragically, has been saved thanks to a MAF flight made possible by thousands of supporters around the world.