Image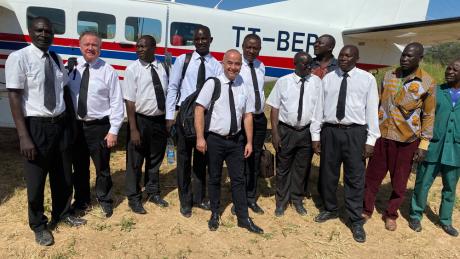 Evangelists deeply touched by warm reception after flying with MAF to support local church in Chad
A church with more than 500 active congregations in Chad has flown with MAF to share the gospel in remote communities.
The New Apostolic Church Canada is making a huge impact on the African nation by planting churches and spreading the word with an apostolic enthusiasm which reflects the work of the early church.
These teams don't just deliver spiritual growth when they fly into communities with MAF, they also leave infrastructure that blesses the whole village.
Image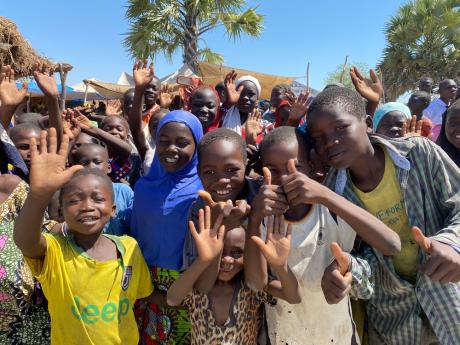 The New Apostolic Church Canada team received a joyful welcome.
"The aim of the team that come is to build and develop church facilities for these groups – the previous year they built 20 churches and this year they were hoping to exceed that," said MAF Chad flight operations manager Becki Dillingham.
"When they build a church, they also build bathroom facilities and a well so that it's not just providing a building for worship, it's also providing something to the community."
When Becki flew the church team to a community in southern Chad, a huge turnout of people was around the runway to give the visitors a joyful welcome.
At their next destination, again the warm reception consisted of music and celebration.
Arnaud Martig, who led the team, was deeply touched to learn that worshippers had travelled long distance, choirs had rehearsed for hours and children had memorised a lengthy welcome message.
"It is difficult to describe my reception because of the feelings and excitement that is aired by our members and especially the children," he said.
Image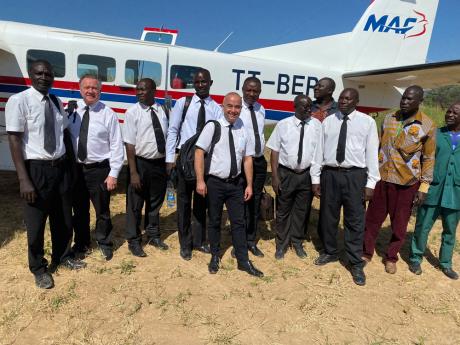 Arnaud Martig (centre) led the team from the New Apostolic Church Canada.
"Visiting a congregation as an unknown, often never having visited there before, as well as a foreigner, could be daunting if it were not for the genuine appreciation and expressions of love from God's children."
The busy itinerary took the church by road to another community, holding at least one service per day, before Becki flew the team from there back to the capital N'djamena.
"It was very reminiscent of Paul in the Bible, coming to give his greetings," Becki said.
"They don't just set up a church, they come back and see how their church is doing and encourage their church. It did feel very much like I was sat in Biblical times as they pass on greetings from the other churches and share stories of fellow apostles."
Arnaud, a regular visitor to Chad, thanked MAF for the flights which he said helped the team to be more effective.
Image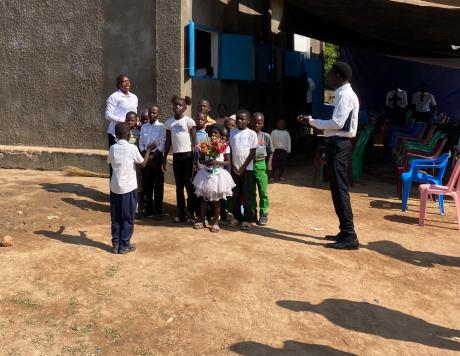 A children's choir welcomes the visiting team.
"Travel by land can be difficult, time consuming and uncomfortable. When trying to maximise our time on a visit, flying makes more things possible and increases our effectiveness in time and financially by accomplishing more on a visit," he said.
"While not necessary, it's nice to not arrive fatigued, sore and full of Chad's colourful orange clay dust. It is also so refreshing and deeply appreciated that the pilots always pray with us before take-off, adding to the spiritual experience of a missionary trip before we even leave the ground."